This page is dedicated to helping our clients save time and money. We have tried lots of different products and have picked many favorites. To save you from making costly mistakes buying equipment and products that don't work, see the list below of products we use on a regular basis. We hope this page is helpful to you.
Need a website and hosting company? Use GoDaddy.com
*Godaddy just made us a free mobil application so our site loads really fast on cell phones!*
We used www.godaddy.com to purchase our domain name, host our website and to build our website. Godaddy is an awesome company! Why? They have the best customer service ever. They have real people who answer the phone once you put in your customer number. Have a busy schedule? No problem, they actually answer the phone 24 hours a day! So when you need help with something on your site, just call them. They will pull up your site and help you out. Better yet, if you don't want to build your site you can pay them a nominal fee and they will create one for you. How can it get better than that?
Delaval Bucket Milker (you also need the pump below to make the bucket work)
We order our Milking Buckets from Parts Department Online. This company has good customer service and this machine is easy to use. It has standard rebuild parts for the pulsator which are available from many companies. Additionally, you can order your replacement rubber parts from this same company. This will make things very easy when you go to reorder new inflations and rubber gaskets. This is a full service company so if you need bucket washing detergent, cleaning brushes, stainless pails, etc. you can order them here with a simple phone call. These are NEW units.\Not refurbished, not used, not junk that will break in a month. There are other units you can buy BUT those units can actually hurt your cow if you are not an experienced user. The DeLaval type unit is 100% beginner friendly and your cow will thank you for buying this one over another. www.partsdeptonline.com 800-245-8222 They can take your order over the phone or online and mail the unit direct to you. We do not like the Vacuum Pump sold by his company. We prefer the Conde Vacuum Pump below since it is MUCH quieter.
Conde Vacuum Pump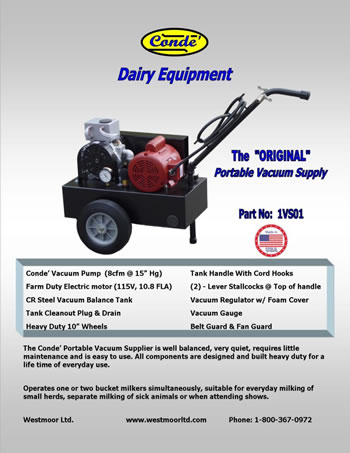 The Conde Vacuum Supply is the original portable milking vacuum supplier for bucket milking up to two cows at once. We use this pump every day to milk up to 10 cows on a twice a day schedule. It is oil cooled and it has a vacuum tank. This pump came with a 3 year warranty and it is a workhorse.Our clients have tried to save money and purchased other pumps from other companies. Those same clients have had lots of issues and problems with those different machines. Besides, when you have a problem with this machine, this company can direct you over the phone on how to correct the issue. They build them on site. This is company direct with no middle men. Westmoor LTD is a very professional company and we hope you like working with them as much as we do. Their phone number is 800-367-0972. Portable Vacuum Supply, Part No. 1VS01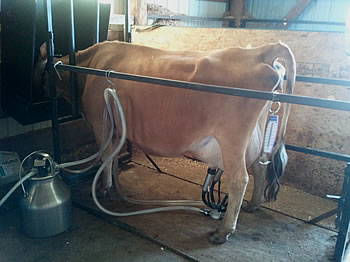 Milking Stanchion
We have found the easiest thing to use for a milking stanchion is a blocking chute. These chutes are usually portable and fold up when not in use. they are easy to move for cleaning and can double for a cattle chute for light veterinary use. If you need to give your milk cow a shot or look at her foot, you can probably get it done in this little unit. These can be found used at sales, on Craig's List under farm and garden and can be found new in cattle show catalogs such as eNasco Farm and Ranch.
Milk Replacer
We like 20/20 or 22/20 Milk Replacer. It is specifically made to meet the requirement of Jersey calves. These days, formulas are made from all kinds of things that are not "all Milk". The formulas made of Soy or Blood Plasma or Wheat are just not adequate to meet the needs of Jersey calves. Please do your research. We purchase our formula from Animal Health International, Inc. stores. It can be "drop shipped" by FedEx / UPS from Animal Health International in Greeley, Colorado. They can be reached at (970) 353-6044. Ask for Todd. Tell him Sara Haas referred you.
Nipples
We like the Merrick Super Calf nipple. These nipples have the perfect size holes for baby calves and you never need to make adjustments. As the calf ages, the nipple hole becomes larger. We have tried every nipple out there. These are the best by far and definitely worth a special order. This nipple can be ordered from Nasco. Product number C25056N.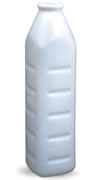 Bottles
Advance EZ Nurse Bottle-3 Quart. This bottle is great because as the calves get older, the hold the additional milk older calves need. This bottle can be obtained at Nasco. Product Number C25544N.
Bottle Holder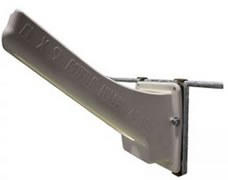 These are the bottle holders we use. They are easily bolted to a wire calf panel. They can be also be screwed to a wood frame. These holders are tough, hold the bottle securely and train the calves not to butt the bottle. They retail about $15 and are made by Agri-Plastic, Inc. They can be purchased from IBA Dairy Depot located in Evans, Colorado. Contact Pat at (970) 284-6599. He can drop ship them to you.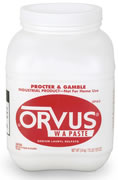 Shampoo
Orvus. This is the only shampoo you will ever need. It is AWESOME. I use it on all my animals. It is gentle, removes manure like nothing else and one gallon will last you forever. This product can be obtained at Nasco. Product number C01036N.
Hamilton Nylon Cow Halter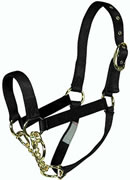 These halters have quilted stitching for durable construction and the highest quality durable nylon webbing. They are available in several styles and colors.
More information is available on the Hamilton website and at Amazon.com.

Calf Jackets
We love these calf jackets. They are very adjustable and fit the Miniature Jersey calves very well. They are sturdy and hold up well. They are very affordable as well costing under $30 each. One thing about these jackets is that the white decals on the sides mostly comes off in the first wash. However, the material and the stitching hold up great. They can be purchased from Dairy Tech, Inc. This company can be reached at (970) 674-1888. Their are two sizes. Jersey (blue as pictured) and Holstein (red as pictured) for older or larger calves. We also have these on hand so your calf can travel to you safe and warm.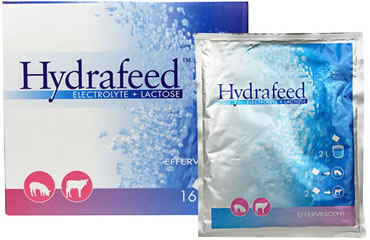 Electrolytes
We really love this brand of electrolyte. It has added lactose to supply all the energy needs a calf needs in place of a milk bottle. When your calf gets diarrhea you need to provide them with an electrolyte to keep them up and going. This is given instead of milk and the calves love the flavor. Our babies usually love this so much they will drink it from the bottle and don't need to be tubed as often. Not very expensive at around $4 per pack but WELL worth the money spent.
This can be purchased from PBS Animal Health.
Veterinarian
Yes, you need one. You need to have one you have established a relationship with prior to having some sort of emergency. Make sure your veterinarian understands you love your cow and want to provide excellent care for her. Find out ahead of time what it costs for him to come out. Find out if he has a "well cow" package you can buy for fall and spring shots. Perhaps he will discount this for you if you pay for the package ahead of time. Often veterinarians will respect you more if you call them out for routine things in addition to the emergency situations. A vet who provides routine care will often make additional effort to come to the farm in emergency situations when they know you are serious about providing year round care for your animal. Prior to calving, call your vet and have a plan of action in case you do not have a routine delivery. Let your vet know you would rather provide your cow with a C-section than lose the cow and/or calf. Find out what that would cost. If it is not in your budget, ask your vet if he can discount the service in the unlikely event you need it. Often vets can be flexible in their pricing when facing owners who are "prior planners". Shop around. You need a vet with a lot of cattle experience. Make sure your vet understands your goals with your cow. Plan ahead for what you will do in an emergency. Remember, if you think your cow is not well, it probably is very sick. You need a vet to be willing to come out when you call. Same day.Have your vet give you a referral number for those times when he can't be reached. Our vet gave us an alternate veterinarian's number in the event we can't reach him. Our vet has already arranged with the alternate vet to accept our calls. Remember, most veterinarians went to vet school because they love animals and have a keen interest in keeping them healthy. They will appreciate clients who feel the same way. We use Dr. John Flinchum. He can be reached at (303) 702-1755.
Hoof Trimmer
You need to find one in your area. You can call purebred cattle breeders or 4-H clubs to get referrals.
Insurance
We recommend the following insurance company. We are sure there are others out there but to date this is the one most clients have tried. Let us know if you recommend others and we'll add them to this list. We recommend insurance on all the animals we sell. It is comforting to know that for a few hundred a year, your animal investment is insured for the purchase price in the unlikely event of catastrophic loss.
Jim Bessler
jim@JamesFBessler.com
Office: 630-945-3483
Cell: 815-762-2641
Fax: 630-945-3584
518 Brownstone Drive
St. Charles, IL 60174-2807
Website: www.jamesfbessler.com